Reliable Hardware, Innovative Software, User-Friendly Features
Vibration Research's controllers are specially designed and engineered to provide superior value. Here's what you can expect from our flagship product:
Reliable Hardware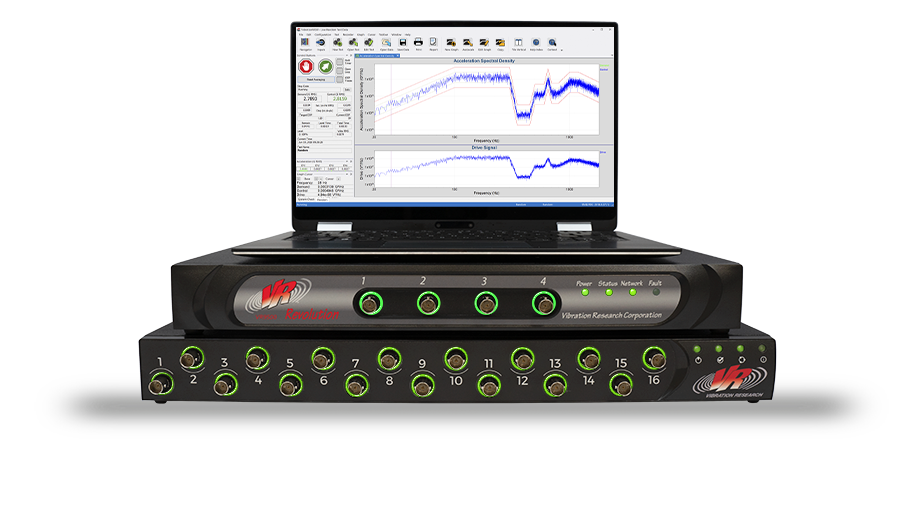 Vibration Research guarantees your satisfaction. Our controllers have been meticulously designed and engineered for a high degree of reliability.
Each controller include a three-year hardware warranty, which can be extended to a lifetime warranty by continued renewal (no lapse) of your Upgrades & Support Agreement.
Each controller is individually tested before shipping
Controllers utilize a common hardware platform and built-in hardware self-diagnostics, making troubleshooting an easy process
We actively solicit customer feedback. Ninety percent of our improvements originate from customer suggestions.
Innovative Software: VibrationVIEW
INTUITIVE. FLEXIBLE. POWERFUL.
VibrationVIEW is Vibration Research's proprietary software that is used in conjunction with the VR9500 and VR10500 controllers to set up and monitor vibration tests and to perform automatic as well as custom reporting. It runs on all versions of Microsoft Windows and offers the convenience of remote monitoring and control through the web and email. Listed below are some of the many reasons why our customers love VibrationVIEW.
SHAKER COMPATIBILITY
VibrationVIEW works with any electrodynamic, servo-hydraulic, or servo-electric shaker and includes single axis, dual-axis, dual-phase, three-axis, multi-loop, and seismic control options.
UNPARALLELED ANALYSIS
Optional analysis capabilities include cross spectrum, transfer functions, coherence, correlation, and the ability to apply math functions to any graph trace.
TEST AND LEVEL SCHEDULING
Tests can be scheduled to run a user-defined length of time and the spectrum level can be scaled by a specified dB level, percentage, or a specified RMS acceleration. Tests can be scheduled to run for multiple periods at different intensity levels. Amplitude levels can be changed while the test is running.
GRAPHS
VibrationVIEW has an easy-to-use graphing system that includes auto-scaling and zooming capabilities. Graph images and raw data can be copied to any word processor or spreadsheet.
DATA PLOTS
Our software allows for many graphical display options including:
Acceleration spectral density
Output voltage spectral density
Channel-to-channel transmissibility
Phase between inputs or outputs
Lissajous curves
Historical data logging
Real time drive voltage
Real time channel acceleration
Drive vs Input including system limits
DATA CURSORS
Automatically locate and track peaks and valleys
Highlight particular data points
Calculate rms between any frequencies
Calculate slopes in log or linear plots
Find harmonics of resonances
Annotate the Bandwidth and Q-Factor of resonances
EASY TEST ENTRY
Simple quick entry for basic testing
Advanced entry option for advanced testing
Consistent entry layout for each test mode
Graphical test plots to validate entry
Up to 9,999 separate frequency/amplitude breakpoints can be entered
SYSTEM CHECK
All VibrationVIEW software packages include a system check mode that provides manually controlled sine wave output, oscilloscope, and spectrum analyzer of each accelerometer input. This test mode is used to calibrate the system and verify operation of the controller, amplifier, shaker, and accelerometers.
TEST SEQUENCER
A test sequence provides the capability to automatically execute a sequence of tests. All of the tests may be the same type of application or you can switch test modes as part of the test sequence.
DATA STORAGE

All of the test data can be stored to any disk, including network drives, for later retrieval. Data storage can be done manually or programmed to automatically save at user-defined intervals. Data can easily be copied to removable media. Data can be exported to universal text files with a click of the mouse.  All settings are in each data file.  Never again question the conditions used to run a test.
CONFIGURABLE SAFETY LIMITS

To protect your test article and shaker system configurable acceleration limits, line limits, system gain limits, and drive limits can be set by the user. The inputs channels are continuously monitored for fault conditions. An input is also verified against shaker acceleration, velocity, and displacement limits.
TEST SECURITY

Protect the integrity of the test with password with multiple access levels. Operators are allowed to make changes required to run a test, but prevented from making changes that may damage equipment or invalidate the test results.
TESTING OPTIONS

VibrationVIEW can be configured for a wide range of standard and custom testing options.
User-Friendly Features
The VR9500 and VR10500 do not require any special boards or special PC drivers. Our customers are able to use any PC in their lab or connect to their laptops. Simply plug in the Ethernet cable and begin testing. Here are some of the user-friendly features that Vibration Research customers appreciate:
DRAG AND DROP
With drag and drop capabilities, the VR9500 and VR10500 enables customers to quickly load tests and results into Microsoft® Word or Microsoft Excel.  Easily paste test specifications received as email or documents into test profile tabs.
ETHERNET CONNECTION
An Ethernet connection provides important advantages over USB or PCI-based systems, including:

Ground loop isolation
Cable length up to 100 meters
No drivers to install
PC AND WINDOWS INTEGRATION
The VR9500 and VR10500 integrates seamlessly with your PC and Windows operating system, enabling our customers to leverage their existing knowledge and accelerate their learning curve. Simply connect the controller, load our VibrationVIEW software and you are ready to test.
RACK MOUNTABLE
The 1U VR9500 and VR10500 can be easily mounted in an 19 inch (483mm) amplifier rack, which eliminates the need for long accelerometer and drive cables.
CUSTOMIZABLE REPORTING
All systems include our full, robust reporting package which automatically produces presentation-ready, sophisticated reports at the end of a testing sequence. Our customers have the choice of using one of our pre-packaged report templates – enabling users to enter important data such as technician, customer name, time, date, test parameters and more – or creating their own custom, branded reports.
512 AVAILABLE INPUTS
The VR9500 is scalable from 1 to 128 channels. The modular design uses 1U four-channel blocks that can be easily rack mounted or stacked on a desk.
The VR10500 is scalable from 16 to 512 channels. The modular design uses 1U sixteen-channel blocks that can be easily rack mounted or stacked on a desk.
ECONOMIC SOLUTION
Each four-channel/sixteen-channel module can be used independently on separate shakers or linked into a single stack for jobs requiring a higher channel count. This economic solution creates substantial cost savings for our customers. Additional outputs and software may be required to control more than one shaker. Our sales representatives can help you develop an economic solution for your company.
WEB AND EMAIL OPTION / REMOTE INTERFACE
Test initiation, monitoring and shut down can happen remotely with the controller hardware. Our customers have the option to use their tablets, phones, or other mobile devices to monitor and control their vibration test in front of their shakers or from anywhere in the world.
EASY INTEGRATION
Applications such as Microsoft Excel, LabVIEW, Matlab and more can easily interface by way of Active-X functions.
Customer Service
At Vibration Research, we believe ongoing support is just as important as the initial installation. Ask about our:
VR Gold program for upgrades and support
Dedicated customer support team
Virtual live and on-demand education
On-site and off-site training
More Information
Download our VibrationVIEW Brochure
Download our Product Catalog
Download our VR9500 Data Sheet
Download our VR10500 Data Sheet
Take a Demo
Contact a VR Sales Representative